Description
From Which Medical Device
The OnControl Bone Access System from Vidacare is a device for bone marrow aspiration or bone biopsy. The battery powered driver is disposable but is said to last more than one hundred uses. The use of a powered driver is likely to allow more control than traditional manual access techniques. The driver is one speed (ie "on" or "off") rather than variable speed and is not sterilisable, but is placed within a sterile bag which comes in a disposable tray set (see pictures).
In a study by Swords et al1, the OnControl device delivered larger specimens and lead to less discomfort and faster procedure times than manual systems.
Reference
1. Swords RT, Anguita J, Higgins RA, Yunes AC, Naski M, Padmanabhan S, Kelly KR, Mahalingam D, Philbeck T, Miller L, Puga TA, Giles FJ, Kinney MC, Brenner AJ.
A prospective randomised study of a rotary powered device (OnControl) for bone marrow aspiration and biopsy
. J Clin Pathol. 2011 Sep;64(9):809-13. Epub 2011 May 23.
PubMed references about the OnControl device can be found
here
.
---
Which Medical Device of the Year 2012
Winner: Orthopaedics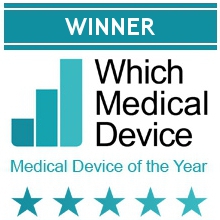 Our nominator said, "I used one to biopsy and ablate an osteoid osteoma and never broke a sweat."
We said "The motorised needle is easy to control and in our experience produces good quality specimens."
_______________________________________________________________________________________________________________________________________________________________________