Description
From Platform-14

This challenging stenosis requires a genuine 360 degree coating of ACTIVE drug not just a mixture of drug and a "carrier". It also needs a high Paclitaxel uptake into the stenosis. Platform 14 claim to have the highest drug uptake of any DEB. A short 50cm shaft makes it easy to use while keeping your hand out of the beam and a higher pressure of 18ATM's.
The company say their coating only needs a 30 seconds drug transfer time, which makes it more tolerant for the patient!
Available as over the wire .018 and all go through a 4F or 5F sheath.
Cardiology Balloons From £425 - £495.00
Radiology balloons From £470 - £695.00
Neuro balloons From £1625 - £2550.00
terms and conditions apply.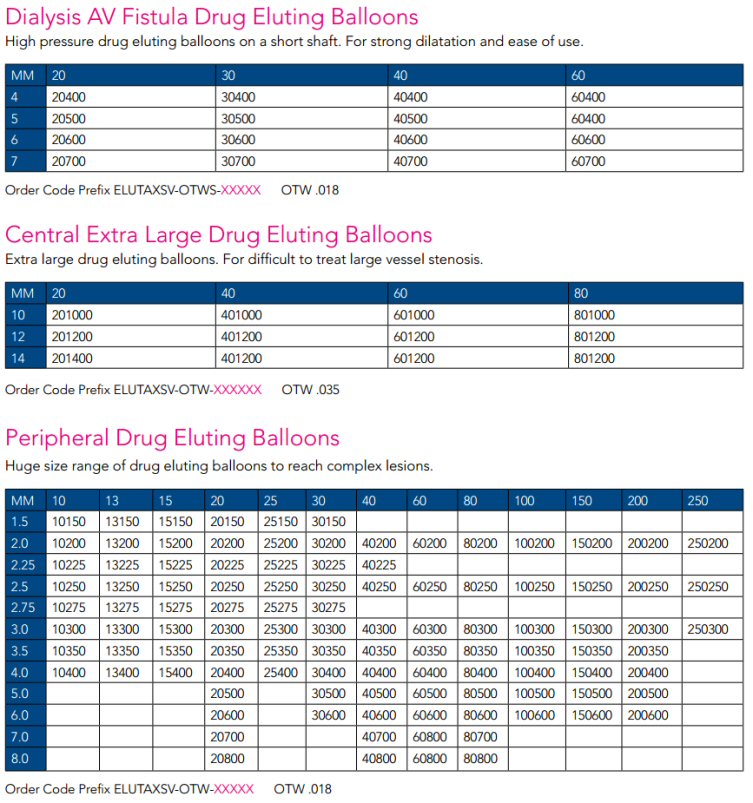 Tips from the Manufacturer:
Follow the IFU, don't wet the outside of the balloon and remember to take off the protective plastic cover on the balloon. For AV Fistula, we suggest that you ensure you cover the lesion with a couple of mm?s at each end.
We don?t advise either pre or post dilation when treating a lesion with a DEB's. However, many users tell us that Pre dilation of the stenosis can be useful and is preferable to post-dilatation, which can (in theory) disturb the drug deposited on the vessel wall.
The balloon is strong, use the full 18ATM if necessary. We also have very effective low cost 26ATM AV Fistula plain balloon.