Google Glass: Finding True Clinical Value
Published date : 31 October 2013
Article date : 31 October 2013
Dr Phil Haslam, Consultant Interventional Radiologist
Dr Sebastian Mafeld, Specialist Registrar in Radiology
Summary:
Google Glass is a wearable device that allows the user to experience augmented reality. It is expected for consumer release in 2014.
This technology could have multiple uses in healthcare.
Current research has demonstrated the use of Glass in education and for displaying critical patient information.
While current proposed concepts for Glass in healthcare are interesting, some are of questionable clinical use. The challenge with integrating Glass into healthcare is to find ways it can add true clinical value and ultimately improve patient care.
Interventional Radiology is a unique specialty that could be well integrated with Glass and we introduce two concepts that could improve patient safety, operator comfort and procedure efficiency.
Some of the proposed uses for Glass can be achieved using existing technologies like the GoPro Hero 3.
Wearable technology is one of today's hottest trends and has inspired a new generation of electronic devices. One such item that has generated considerable excitement is
Google Glass
– named one of Time's Best Inventions of 2012
(1)
. Simply put, this is a pair of glasses with an integrated computer that allows the user to see a head up display (HUD)
(2)
.
The Glass can be controlled with voice commands or a side touchpad, it also incorporates an externally facing camera to record pictures and video. When this all comes together, the wearer is able to experience "augmented reality" where visual content can be overlaid into an existing line of sight. Here is an example of how this could work: Google Glass, How it feels.
Glass is currently in a type of beta testing phase called the "Explorer Program" and isn't expected to be available for consumer purchase until 2014. However, there is optimism that Glass could change industries like healthcare and aviation forever
(3)
. The intersection point between wearable tech (in this case Glass) and the evolving role of telemedicine and mobile health (m-health) means there is a considerable energy being put into finding novel uses for Glass in medicine. Some of the key figures in this search include:
Rafael Grossmann – a General and Trauma surgeon has blogged
(4)
about the value of Glass's ability to share a direct "point of view" perspective.
This could be a useful source for telemedicine or education purposes. As an example, Dr. Grossman inserted a
PEG
(Percutaneous Endoscopic Gastrostomy) while wearing Glass and streamed the lives images to an iPad remotely.
Lucien Engelen is part of the Radboud REshape Innovation Center (5) and is currently researching multiple applications for Glass in healthcare. So far this work has included for example integration in the operating room and in trauma helicopter. More information can be found on the Twitter page: (https://twitter.com/reshapeglass)(6).
Philips Healthcare and Accenture joined forces to launch a google glass proof of concept
(7)
. In doing so they connected the Philips IntelliVue patient monitoring system with Glass. This allowed real time patient vital signs to be projected onto the Glass being worn by an anaesthesiologist on his way to see a patient. This also allows patient monitoring during surgery without having to turn to the monitors.
Glassomics describes itself at the "world's first medical Glassware incubator" – essentially a dedicated organisation to explore how Glass can be integrated into healthcare. Currently they list several Glass concepts (8):
Tetrascope – investigating how to best display patient physiological data on Glass
VINCE (Virtual Network of CarE) – investigating how to present laboratory data and a dedicated Glass peer to peer network.
The above examples are interesting and represent a novel use of new technology. Besides the "coolness factor," some of the proposed concepts are of questionable clinical use and in some cases could already have been achieved using existing technology. While there is great optimism surrounding Glass' integration into healthcare, several concerns have been highlighted, including patient privacy/confidentiality and the risk of "information overload" (9). For example, it is no hardship for a doctor to look at the monitors when they are directly in front of him throughout the operation. The surgeon certainly wouldn't need, or want that additional information distracting him from the job at hand.
The challenge with integrating Glass into healthcare is to find ways it can add true clinical value and ultimately improve patient care.
There is one rapidly growing area of medicine that could see a real benefit from Google Glass style augmented reality. Interventional radiology is essentially 'image guided surgery'. As an interventional radiologist (IR) I perform minimally invasive procedures whilst looking alternately at my hands/equipment and then the real time image on a screen. This image may be being produced by a CT scanner, x-ray image intensifier or ultrasound machine. Sometimes several forms of guidance are used at the same time. The ergonomics of this are not always easy. The monitors that enable me to see what I'm actually doing could be over my shoulder or partially obscured by other equipment. Some form of HUD would remove this obstacle and make procedures quicker and safer. Indeed we tried this with ultrasound guided biopsy about 10 years ago using a gaming headset called 'Eye Trek'. This was limited by its weight and cable connection to the ultrasound machine (10).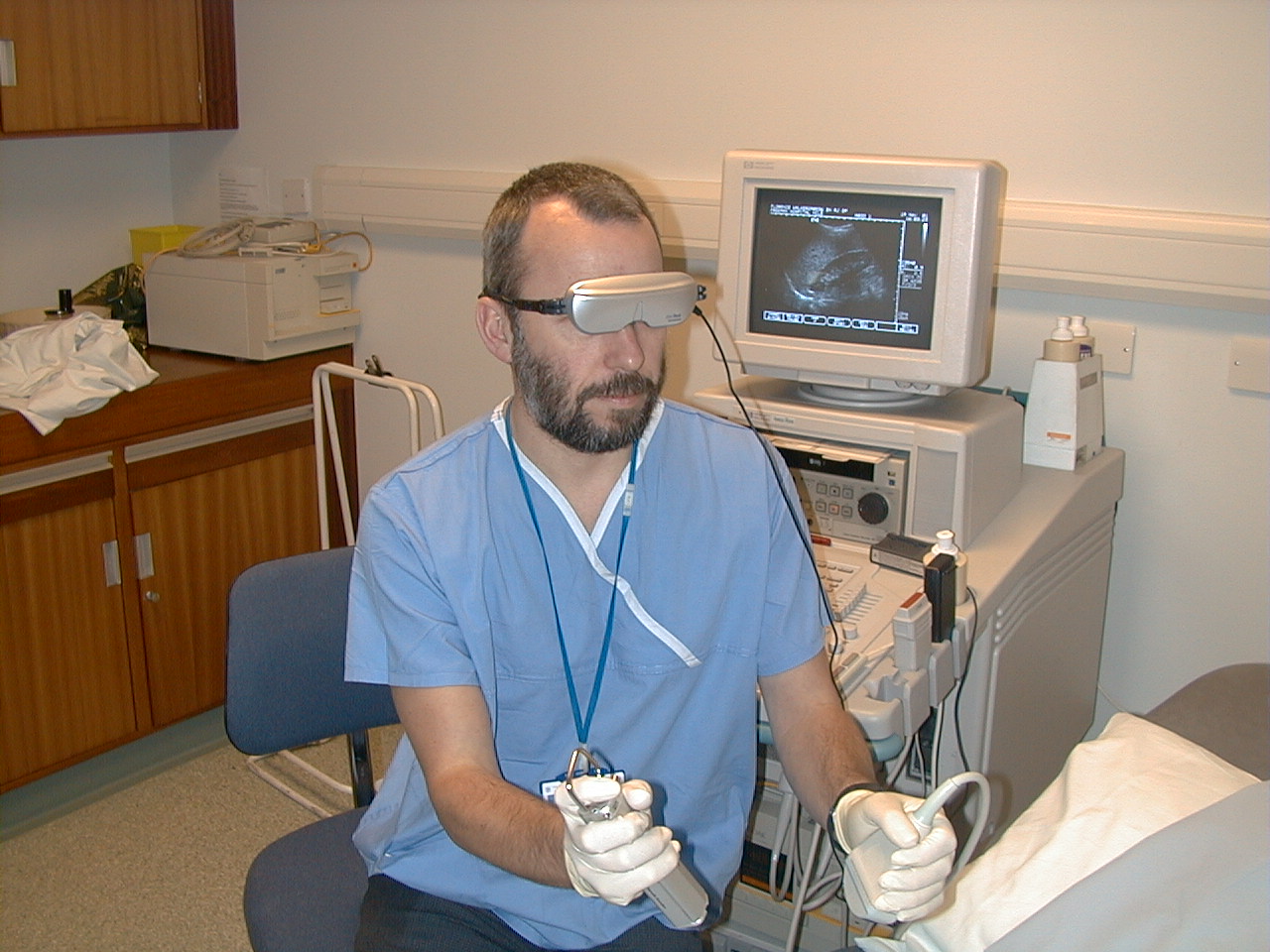 Glass, or a variation of it, could provide a solution to this. We therefore propose two concepts for Glass in IR to solve the problem of ergonomics and improve procedure efficiency.
1. Glass – solving the problem of ergonomics during an image guided biopsy.
By using Glass the operator is able to simultaneously maintain a view of the patient and the ultrasound image. With the launch of wireless ultrasound transducers (Siemens Acuson Freestyle (11)), an operator could be even more flexible in their position thereby improving comfort and making it easier to target angles that today would be considered unfeasible.
2. To further push the boundaries of Glass in Interventional Radiology, the following concept has been developed to show how Glass could facilitate a fistuloplasty procedure:
Dedicated "apps" could be created for Glass that allow:
Measurement of vessel stenoses and integrate with existing stock to suggest an available balloon.
When using a medical device, Glass can display necessary technical specifications like balloon burst pressure and sheath size.
The procedure note to be generated on the fly along with devices used.
Integration with real-time radiation dose monitoring.
While Glass may have the most current attention, it isn't without competitors. Multiple companies, for example: EyeTap and Tele-Pathy are producing devices that may rival Glass. (12,13) Competition may heat up even further as there are reports online that Microsoft and Samsung could develop contending devices. The proposed features outlined in this article aren't unique to Glass and could equally be implemented on the EyeTap or using Tele-Pathy.
Much of Interventional Radiology training is visual and 'hands on'. Junior doctors are trained with a senior supervisor scrubbed standing next to them. We are often asked if other doctors and students can come in and watch the procedure. This is usually possible for one or two students, but room is limited and there is only so much that can be seen when you are not also scrubbed. An 'operator's eye' view is an ideal teaching tool. This coupled with commentary from the operator can impart vast amounts of knowledge that cannot be easily acquired any other way. There is no doubt, Glass could play a big role in education as Dr. Grossmann's concepts have pointed out.
However, this proposed value of Glass can already be achieved using existing technology, for example the GoPro Hero 3. This camera has its own private WiFi link and allows live streaming to multiple devices running the GoPro app. With the GoPro we are able to allow students to observe live procedures without actually being in the room, being scrubbed, or more importantly being exposed to x-ray radiation. Streaming can also be performed live to the web using Ustream (www.ustream.tv) which gives enormous potential for training.
The role can also be reversed. Senior trainees require supervision, but also need a degree of independence to make their own decisions. This balance is hard to strike, and of course, patient safety is paramount. We have found that the trainee can wear the GoPro whilst operating and the supervising senior doctor can directly observe what they are doing with almost the same view that the trainee has. This allows the supervisor to watch hand movements and also the live image on the monitors whilst the procedure is being performed. Here is an example video of how it works:
To our knowledge, this article outlines the first concepts of Glass in Interventional radiology that could improve patient safety, operator comfort and procedure efficiency. While waiting until 2014 for a consumer version, alternative technologies like the GoPro Hero 3 offer some of Glass' proposed uses in medicine. The potential use for Google Glass in healthcare is vast but it must be ensured the ideas are of true clinical value.
Dr Phil Haslam, Consultant Interventional Radiologist and Dr Sebastian Mafeld, Specialist Registrar in Radiology
References:
1. TIME Tech. Best Inventions of the Year 2012. Time [Internet]. [cited 2013 Oct 30]; Available from: http://techland.time.com/2012/11/01/best-inventions-of-the-year-2012/slide/google-glass/
2. All sizes | Detail of Google Glass | Flickr - Photo Sharing! [Internet]. [cited 2013 Oct 30]. Available from: http://www.flickr.com/photos/azugaldia/7457645618/sizes/z/in/photostream/
3. Google Glass: 5 Industries It Will Change Forever [Internet]. ReadWrite. [cited 2013 Oct 30]. Available from: http://readwrite.com/2013/06/07/google-glass-5-industries-it-will-change-forever
4. @ZGJR Blog [Internet]. ZGJR Blog. [cited 2013 Oct 30]. Available from: http://rgrosssz.wordpress.com/
5. REshape & Innovation Center?» Lucien Engelen [Internet]. [cited 2013 Oct 30]. Available from: http://www.radboudreshapecenter.com/reshapeteam/lucien-engelen/
6. REshapewithGlass (REshapeglass) on Twitter [Internet]. [cited 2013 Oct 30]. Available from: https://twitter.com/reshapeglass
7. Philips and Accenture Release Concept for Use of Google Glass in Operating Rooms [Internet]. [cited 2013 Oct 30]. Available from: http://www.medgadget.com/2013/10/philips-accenture-google-glass.html
8. Concepts [Internet]. Glassomics. [cited 2013 Oct 30]. Available from: http://glassomics.com/concepts/
9. Katz M, 14 M| T| S, 2013. Google Glass for medicine: 4 reasons why it could be disastrous [Internet]. KevinMD.com. [cited 2013 Oct 30]. Available from: http://www.kevinmd.com/blog/2013/09/google-glass-medicine-4-reasons-disastrous.html
10. Elliott, S. T. The application of a head-mounted display system in interventional ultrasound procedures. Eur J Ultrasound 15[S1], S38. 2002.
11. ACUSON Freestyle Ultrasound System [Internet]. 00461420_EN_GB|00461421_EN_GB|00461422_EN_GB|00461423_EN_GB|00461424_EN_GB|00461425_EN_GB|00461426_EN_GB|00461427_EN_GB|00461428_EN_GB. [cited 2013 Oct 31]. Available from: http://www.healthcare.siemens.co.uk/ultrasound/ultrasound-point-of-care/acuson-freestyle-ultrasound-system
12. EyeTap Personal Imaging Lab [Internet]. [cited 2013 Oct 30]. Available from: http://eyetap.org/
13. Telepathy [Internet]. [cited 2013 Oct 30]. Available from: http://tele-pathy.org/?og=1
Back to Listings