Study examines use of irreversible electroporation procedure to treat perivascular hepatic malignant tumours
Published date : 06 July 2012
Article date : 06 July 2012
A recently published retrospective review of outcomes for patients treated with the Angiodynamics NanoKnife system has yielded promising results when used in ablation procedures to treat perivascular hepatic malignant tumours. The review, which was published online in the Journal of the American College of Surgeons (19/06/2012), examines results from 28 patients treated with the NanoKnife device between January 1 and November 2 2011, in surgical interventions targetting a total of 65 pervivascular tumours.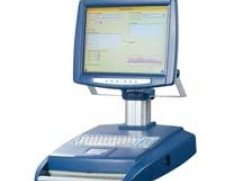 Patient selection for treatment with the irreversible electroporation (IRE) procedure, performed using the NanoKnife system, was considered when resection or thermal ablation was not indicated due to tumour location, and treatment outcomes were classified by local, regional, and systemic recurrence and complications. Evalutation with post-operative imaging was used to assess blood vessel condition adjacent to the treatment sites of the tumours. Of the twenty eight patients selected, twenty two (79%) were treated via an open approach and 6 (21%) were treated percutaneously. Median tumour size was 1 cm (range 0.5 to 5 cm). Twenty five tumours were <1 cm from a major hepatic vein; 16 were <1 cm from a major portal pedicle. Additionally, prior to the procedure all patients were judged to have locally advanced pain (median pain score of five on a scale of three to nine), taking a median dose of 75 mcg narcotics per day.
The authors of the study reported encouraging results for the NanoKnife System, and concluded that from early analysis the device demonstrates safety and positive short-term outcomes for the treatment of perivascular hepatic malignant tumours. At an average follow-up of six months, 96% of patients revealed no persistent disease, and 95% of tumours had not recurred locally. Additionally, average patient narcotic use had fallen to 25 mcg per day with median pain score recorded as three. There was no incidence of treatment-associated mortality and an overall morbidity rate of 3%. Complications included one intraoperative arrhythmia and one occurrence of postoperative portal vein thrombosis.
Although the NanoKnife low-energy direct current (LEDC) thermal ablation system has not been cleared for the treatment or therapy of any specific disease or condition, the device has received US Food and Drug Agency (FDA) 510K approval for use in the surgical ablation of soft tissue.
Find out more about the NanoKnife device
here
.
Back to Listings