Mynx M5: Designed specifically for 5F closure
Published date : 01 June 2010
Article date : 01 June 2010
AccessClosure has introduced its newest addition to the Mynx family, the Mynx M5 vascular closure device. Designed specifically for 5F closure, the Mynx M5 delivers an extravascular, conformable sealant through the existing 5F procedural sheath, eliminating the need for a sheath exchange and preserving the size of the arteriotomy. In addition, the Mynx M5 provides all the same benefits as the 6/7F Mynx. The device is deployed gently, avoiding cinching and tugging of the artery. Without the use of a suture or permanent metal implant, the Mynx sealant is placed on the surface of the artery.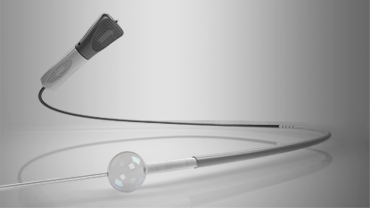 According to the company, it immediately seals both the arteriotomy and the tissue tract, rapidly absorbing blood and subcutaneous fluids and minimising ooze. The Mynx sealant then dissolves completely through hydrolysis within 30 days. Furthermore, the company explains that the Mynx design minimises the discomfort commonly associated with vascular closure due to its deployment method and sealant material. It also uses a soft, bioabsorbable polymer sealant material, polyethylene glycol.
The Mynx Study
The Mynx study was a prospective, multi-centre, non-randomised clinical investigation conducted at five European centres. Patient enrollment included 190 patients with 50% of patients having undergone diagnostic catheterisation and 50% interventional procedures.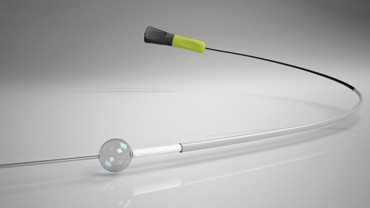 The primary safety endpoint was the combined rate of major complications within 30 days. The primary efficacy endpoints were time to haemostasis and time to ambulation.
Key results from the Mynx Study:
0.5% rate of major complications

Absence of complications requiring surgical repair

Rapid haemostasis (mean 1.3 minutes) independent of anticoagulation

Time to haemostasis comparable whether the patient underwent a diagnostic (median 0.5 minutes) or interventional (median 0.6 minutes) procedure

Consistently rapid time to ambulation of 2.0 hours for diagnostic patients and 1.9 hours for interventional patients
Mynx Study conclusions:
Demonstrated safety and efficacy

Extravascular, water-soluble sealant offering unique safety profile

Rapidly resorbs, leaving nothing behind

Potential for clinical versatility – PVD, immediate restick, obesity
Mynx M5 One Hour Ambulation Study
Commencing in March 2010, the Mynx M5 One Hour Ambulation Study (official title: 'Single-centre, Post Market, Prospective, Consecutive, Single-arm Study Compared to Historical Control [Diagnostic Arm of the Mynx 6/7F Study]'), will assess the safety and tolerability of participants ambulating within one hour of placement of the Mynx M5 closure device. Participants will be assessed for adverse event occurrence for 30 days. The study is expected to be completed in August 2010.
Back to Listings