ARMOUR study: MO.MA device is safe and effective for patients at high surgical risk for CEA who undergo CAS
Published date : 27 April 2010
Article date : 27 April 2010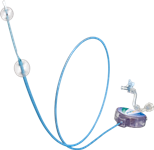 New research presented at the recent Society of Interventional Radiology (SIR) Meeting in Tampa, Fl, revealed that use of a new cerebral protection device in combination with carotid stents in high surgical risk patients provides a minimally invasive, safe and effective way to prevent stroke from occurring.
The MO.MA proximal embolic cerebral protection device (Invatec) acts as a balloon occlusion 'endovascular clamping' system to achieve cerebral protection prior to crossing the carotid stenosis. The device consists of a catheter with two compliant balloons at its distal portion, which can be independently inflated and deflated. A central lumen allows advancement and usage of the interventional devices (PTA balloons and carotid stents). The MO.MA device effectively reduces and captures debris released during the stenting procedure to prevent it from travelling to the brain, where it has the potential to cause a stroke. It is designed to achieve cerebral protection by proximal blood flow blockage at the carotid bifurcation: antegrade and retrograde flow blockage are achieved by proximal balloon occlusion of the common carotid artery (CCA) and distal balloon occlusion of the external carotid artery (ECA), respectively. Cerebral protection is thus established prior to the initial wire passage through the stenosis and maintained during the entire procedure. The MO.MA provides withdrawal of embolic particles by allowing manual syringe aspiration of any micro-emboli at the end of the procedure before restoring blood flow through the stented vessel.
ARMOUR clinical trial results
The results of the pivotal, multi-centre, non-randomised ARMOUR trial demonstrated the safety and effectiveness of MO.MA proximal flow blockage cerebral protection device for patients at high surgical risk for carotid endarterectomy (CEA) undergoing carotid artery stenting (CAS). In the prospective study, 262 patients were enrolled at 25 investigational sites in the US (20) and the EU (5) between September 2007 and February 2009. All study participants underwent percutaneous revascularisation of the carotid artery using the MO.MA device and a stent approved by the FDA for carotid artery stenting.
Primary outcome measures were major adverse cardiac and cerebrovascular events (MACCE) within 30 days of implantation. Secondary outcome measures were device success, technical success, procedural success, restenosis at 30 days, and target lesion revascularisation (TLR) at 30 days.
For the intention to treat population (n=225), the mean age was 74.7 years with 66.7% of the cohort being male. Symptomatic patients comprised 15.1% and 28.9% were octogenarians, and device success was 98.2% and procedural success was 93.2%. The 30-day MACCE rate was 2.7% [95% CI (1.0-5.8%)] with a 30-day major stroke rate of 0.9%. The mortality rate was 0.9%, and there were no myocardial infarctions. The device success for the MO.MA was 98.2%, technical success 94.6%, and procedural success 93.2%. The access site complication rate was 3.1%.
The trial investigators stated that the absence of stroke in symptomatic patients is the lowest rate reported in any independently adjudicated prospective multi-centre registry trial to date.
Dr L Nelson Hopkins, State University of New York, Buffalo, US, and co-principal investigator of the ARMOUR trial stated, "Proximal embolic protection is an important advance that gives us more options in the treatment of carotid artery disease. The MO.MA Ultra combines the advantages of carotid endarterectomy with the minimally invasive benefits of carotid artery stenting."
He added that, contrary to popular opinion, the device is easy-to-use, device intolerance is rare and usually reversible and, as confirmed by magnetic resonance and transcranial Doppler imaging, less emboli travel to the brain. Hopkins said that it appears as if proximal embolic protection may be the procedure of choice for recently symptomatic patients, low gray-scale measure lesions, and perilesional tortuosity. This technology may also prove useful for string sign lesions, acute carotid occlusion/stroke, and luminal thrombus in the future.
"These results confirm the safety and effectiveness of the MO.MA device for proximal protection in high surgical-risk patients, and the cumulative event rate compares very well with the other trials," he concluded. "I like to think of this as an endovascular endarterectomy. The procedure shuts down all the vessels, removes or pushes aside the plaque, and then aspirates out all the debris, much like we do with an endarterectomy. As a result, we have the advantages of the endarterectomy combined with the benefits of a minimally invasive procedure and short occlusion times for the patient."
Back to Listings