Pathway Medical Technologies receives FDA clearance for JETSTREAM atherectomy system
Published date : 19 July 2010
Article date : 19 July 2010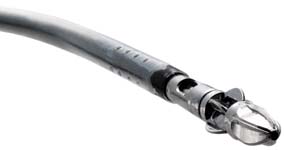 The FDA has granted the Pathway Medical Technologies 510(k) clearance to market JETSTREAM G3 SF (Small Fixed), the newest version of its peripheral revascularisation catheter for the treatment of peripheral vascular disease (PVD). The smaller size, fixed cutter and longer catheter length make JETSTREAM G3 SF an ideal option for treating blockages below-the-knee (BTK). JETSTREAM G3 SF allows physicians to treat a broader range of PVD patients, including the greater number of patients with critical limb ischaemia (CLI) and diabetes in the BTK population.
"The JETSTREAM G3 SF gives me a new tool in my arsenal to treat a wide range of PVD patients, including those with blockages in smaller arteries below the knee," said Dr Malcolm T Foster III, research director at East Tennessee Heart Consultants and physician at Mercy Medical Center West, Knoxville, US. "In particular, patients with diabetes have often faced the threat of amputation due to poor circulation in the extremities. With JETSTREAM, some of these patients now have a viable option for treating CLI and saving their limb."
According to the company, JETSTREAM G3 SF is the only below-the-knee device on the market that offers active aspiration. It is optimised for below-the-knee blockages and features a smaller, fixed cutter designed for enhanced performance in tortuousity and better navigation of the device through arteries of the lower leg.
Back to Listings