Pre-market approval submission for the Zilver PTX Drug-Eluting Stent Platform
Published date : 19 July 2010
Article date : 19 July 2010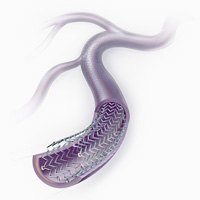 Cook Medical has submitted its Pre-Market Approval (PMA) application to the FDA for the company's polymer-free Zilver PTX Drug-Eluting Peripheral Stent. Intended for use in patients with peripheral arterial disease (PAD) in the superficial femoral artery (SFA), is a self-expanding, highly durable nitinol stent that uses a proprietary, polymer-free technology to deliver a locally therapeutic dose of paclitaxel, an antiproliferative drug, to the target lesion.
Cook's PMA submission includes data from the randomised portion of the ongoing Zilver PTX clinical trial, the largest study of its kind for the endovascular treatment of PAD in the superficial femoral artery (SFA).
Study update
Encompassing a global single arm registry and a randomised study involving 1,276 total patients including diabetics, symptomatic patients and those with complex lesions, the 479 patients enrolled in the randomised study and the 787 in the single arm study are experiencing clinical improvement, excellent stent durability (i.e., fracture resistance), high rates of event-free survival and freedom from target lesion revascularisation. Patency data from the single-arm study was reported at 86.2% at 12 months at EuroPCR in June.
Back to Listings