Outbreak of faith coincides with Pope's visit to Glasgow
Published date : 22 September 2010
Article date : 22 September 2010
The Smith & Nephew poster outside the Combined Orthopaedic Societies meeting in Glasgow raised a few smiles as the meeting coincided with the Papal visit to Scotland. The implication was that however the debate about metal on metal bearings went, and in reference to the faithful receiving the blessing of the Pontiff, you either believe or you don't.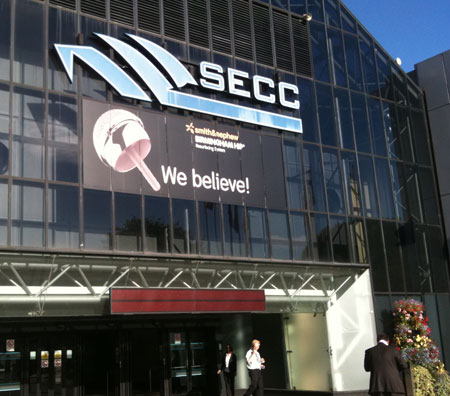 The Smith & Newphew poster at COMOC 2010

Inside the meeting, it was interesting that despite podium presentations on the value of good evidence for orthopaedic practice, many of the exhibitors were showing devices without published results which might be seen as jostling for position in the gap in the market left by the flight from metal-on-metal bearings. These included large ceramic bearings and dual mobility hips, examples of the latter being made by Stryker, Biomet and Medacta. Another trend was the number of manufacturers showing knee replacements with customised jigs, such as the Biomet Signature and the Medacta Global knee system, claiming advantages including a smaller number of trays, and the benefits of navigation without a large machine in theatre.
Back to Listings