DIY implant brings hope to sufferers of Marfan's syndrome
Published date : 10 February 2011
Article date : 10 February 2011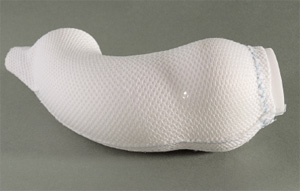 As reported in
The Engineer

, UK engineer and Marfan's syndrome sufferer Tal Golesworthy has developed a unique solution to combat one of the effects of the disease.
A serious complication associated with Marfan's syndrome is aneurysmal dilatation or dissection of the ascending aorta. The traditional treatment for this is open repair with replacement of the aortic valve and ascending aorta. This procedure has significant morbidity and mortality and then requires lifelong anticoagulation.

An alternative is to place an external support around the aorta. Early attempts at producing aortic supports by US surgeon Francis Robicsek failed due to the difficulty of accurately replicating the shape of the patient's aorta.

However, drawing on his background in research and development engineering, Golesworthy initiated the EARS (External Aortic Root Support) project to establish the feasibility of scanning the heart structure and using advances in computer-aided design and rapid prototyping to produce an accurate 3D model of the patient's aorta around which an aortic support could be tailored to fit.

Two years later Golesworthy became the first patient to have the new aortic support implanted and it has now been implanted successfully in more than 20 patients. The device completed its clinical trial in June 2009 and is now commercially avaialble as the

ExoVasc
distributed by
Exstent Ltd
.
Back to Listings